Suspense
The Babysitter
The whispers may scare you . . .
In River Glen, Oregon, rumors are spreading about the Babysitter Stalker. One victim was fatally stabbed. A second fell—or was pushed—from a rooftop deck. High school sophomore Jamie Whelon, scheduled to watch the Ryerson twins tonight, isn't worried. She's more interested in the party she'll go to later, as soon as her sister Emma arrives to take over babysitting duties. But nothing goes according to plan . . .

But the truth . . .
Twenty years after that night's vicious attack, Emma remains scarred in body and mind. Jamie, back in River Glen after their mother's death, still feels guilty over trading places that fateful evening. Then suddenly another young babysitter is attacked. Jamie, with a teenage daughter of her own, fears something much more twisted than coincidence.

Is even more terrifying . . .
Is this new nightmare connected with those long-ago crimes? Emma's fractured memories may contain the answer. But the deeper Jamie digs, the darker the secrets waiting to be
uncovered—and avenged . . .
Last Girl Standing
New York Times bestselling Sisters of Suspense join forces for a gripping standalone novel about a clique of popular girls whose high school friendship is marked by a tragedy that continues to haunt them decades later.
She's dying to kill again . . .
The best of friends . . .
In the Portland suburb of West Knoll, Delta and her friends were the pretty, popular elite of the high school. That was fifteen years and a whole lifetime ago. Even then, backstabbing and betrayal erupted among the women in the group, a trio of which are now gathered around a hospital bed. And most of it revolved around the man lying close to death before them . . .
Until the day . . .
To Delta, it feels as if a nightmare unfolds every time they get together. It started at their senior year graduation party when a group of daredevils led by Tanner slipped under the safety rope and tumbled into the dangerous, fast-flowing river. One of their clique died following his lead. It all seemed spontaneous at the time. A thoughtless deed. But since then, there have been more deaths, more "accidents." And the question hovers, unspoken: who's next?
They die . . .
As the body count rises, Detective Chris McCrae, one of Delta's classmates and a long ago friend of Tanner's, realizes that stopping the terror means digging deep into the past. Hidden beneath the conflicting stories, gossip, and scandalous half-truths are secrets that someone will kill again and again to protect—until there is no one left to tell . . .
The Complete Colony Series: Books 1-4 (with Lisa Jackson)
In the Oregon coastal hamlet of Deception Bay stands a mysterious lodge. Some call it the Colony; others whisper that it's a cult. To the women who live there, it's a refuge. But a killer knows their secrets—and will make sure they never feel safe again . . .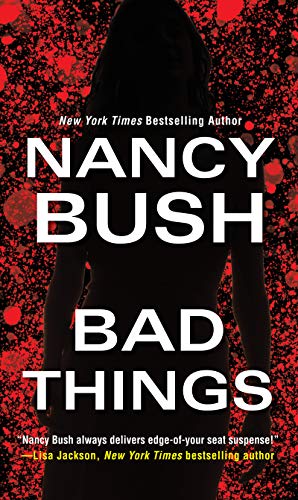 BAD THINGS
Some mistakes you have to live with . . .
One victim succumbs to an overdose. Another is brutally bludgeoned to death. Each, in turn, will pay. Because you never forget the friends you make in high school—or the enemies . . .

And others . . .
In the wake of her stepbrother Nick's death, Kerry Monaghan is visiting Edwards Bay. Kerry has just returned to the small town overlooking an arm of Puget Sound that she left before high school, though not before falling hard and fast for Cole Sheffield, now with the local PD. But Nick's death may be more than an accident. And soon there are others—all former teenage friends, linked by a dark obsession.

You will die for . . .
With Cole's help, Kerry sets out to learn the truth about what happened to Nick. But within Edwards Bay is a shocking legacy built on envy and lust—and a secret that has unleashed a killer's unstoppable fury . . .
Jealousy
Book 6 in the Nowhere Series
THEY HAVE WEALTH
It's taken time for the plan to unfold, years spent waiting, watching, hating. . . . And after the first victim, the killing gets easier and easier . . .
PRESTIGE
The Crissmans, owners of Crissman & Wolfe department store, were once one of Portland's most powerful families. There's still enough fortune left to sow mistrust between Lucy, her bohemian sister Layla, their brother Lyle, and his grasping wife Kate. When Lucy's husband is fatally poisoned at a gala, the couple's unhappy history makes her a prime suspect. But the truth is even more twisted, and Lucy can't be sure which of her family is being targeted . . . or who to fear.
AND A KILLER SECRET
Renowned defense attorney Dallas Denton has been hired to clear Lucy's name, unaware of the secret that ties them together or of the deep cracks in the Crissman legacy. Someone is ready to eliminate every obstacle to get what they most covet, and prove that envy runs deeper than blood . . .
One Last Breath (with Lisa Jackson
You may now kill the bride . . .

Every family has its secrets
Rory Abernathy's wedding to Liam Bastian turned into a bloodbath. She fled after stabbing a masked intruder, just before a gunman opened fire on the wedding party. Five years on, Rory still has no idea who was behind the attacks. Fearful she and her daughter remain targets, she's made a new life far from Liam and the wealthy, powerful Bastians.

But some
But even in remote Point Roberts, Washington, she can't hide from the past. Liam tracks Rory down, stunned to learn they have a child. Did someone in Rory's family try to kill him for his portion of the Bastian estate? As they gradually overcome distrust in search of the truth, Rory knows one thing for certain: someone is watching her…

Are worth killing for
Time has passed, but the killer's need for vengeance hasn't. And as a nightmare stirs to life again, Rory will find that this time, there's nowhere left to run…
No Turning Back
No Turning Back is a romantic suspense novel I wrote early in my career. It was originally published in the 90s as If You Believe, under the pseudonym Nancy Kelly. It will be available in its repackaged edition on December 26, 2017!
NO TURNING BACK…..
They find the body deep in the woods, lying beneath a carpet of wet leaves, eyes still open in a sightless stare. Three dark stains across his chest, and another bullet hole in his forehead.
Child psychologist Liz Havers made a mistake sixteen years ago, and she's ready to face it. That means confronting Detective Hawthorne "Hawk" Hart, who's come back to Woodside, Washington, after a case in LA went tragically wrong. His teenage son, Jesse, is finding it difficult to adjust, and stumbling across a dead man doesn't help.
Bad things never used to happen in the small town of Woodside. Now no one is safe. And the more Hawk tries to untangle a terrifying web of greed and murder, the more desperate his adversary becomes to hide the truth, even if that means killing again and again . . .
Ominous (with Lisa Jackson and Rosalind Noonan)
Someone is watching. . .

New York Times bestselling authors Lisa Jackson, Nancy Bush, and Rosalind Noonan join together in a gripping novel of suspense, as a long-guarded secret plunges three friends into a new nightmare.

NO WARNING
In the photograph, three teenaged girls splash in the lake on a sweltering summer evening. Shiloh, Kat, and Ruth are unaware of the man who spies on them from the woods. They have no idea how their lives will be changed by the brutal violence that follows—and the vow of secrecy they take.

CAN PREPARE YOU
Fifteen years later, Ruth and Shiloh have both returned to Prairie Creek, Wyoming, where Kat is deputy sheriff. Though they've tried to leave their shared past behind, each has the feeling that someone is lurking in the shadows. When a local girl vanishes, Kat is convinced there's a connection to that long ago night. But as the friends unite to find the missing teenager, a killer sends a chilling message.

FOR A KILLER'S VENGEANCE
He's still there. And he hasn't forgotten. For so long he's made do with other victims, but they can't compare to the ones who got away. The ones who keep searching for him, blind to the terrifying truth that they are not the hunters, but his prey . . .
DANGEROUS BEHAVIOR
SOME COUPLES
Just one look, and it's clear they're perfect together. It's in the way they touch, talk, and kiss. They share the same interests. The same twisted passions. They do everything together. Even kill…

ARE TOO GOOD
Julia St. James Ford has washed up on a beach near her home in Seaside, Oregon, with no memory of how she got there or how her husband, Joe, died. The police rule the case an accident. But Joe's brother, Sam—Jules' rescuer and her first love—suspects otherwise. While Sam tries to piece the facts together, Jules fears someone is watching, determined to find out how much she knows.

TO BE TRUE
Behind closed doors, behind Jules' neighbors' smiles, are terrifying secrets. A string of sordid thrill kills…and one survivor who never should have got away. And as she and Sam close in on the events of one tragic night, and the truth comes flooding back, remembering a killer's face may be the last thing Jules ever does...
THE KILLING GAME
Book 5 in the Nowhere Series
The Rules Are Simple:
It's the ultimate test of strategy and skill. The killer chooses each opponent carefully, learning each one's weaknesses. Every meticulously planned move is leading to a devastating checkmate. Because in this game, all the pretty pawns must die.
First You Play
Andi Wren is fighting to keep her late husband's company safe from vindictive competitors. When she receives an ominous note, Little birds must fly, she turns to P.I. Luke Denton. But though Luke has personal reasons for wanting to take down Wren Development's opponents, his investigation suggests this is deeper and far more dangerous than a business grudge.
Then You Die. . .
In a basement on the outskirts of town, police detectives unearth piles of skeletons. As they learn the shocking truth about each victim's identity, their case collides with Andi's, revealing a killer's ruthless plot and a chilling, lethal endgame. . .
Reviews
Wow, what a thriller this book is, no surprise as Nancy Bush writes a suspenseful story line. THE KILLING GAME kept me guessing all the way to the end. I love books that hold my attention and if I can't figure out a book till the end, I can't put it down.
★ ★ ★ ★ - RT Book Reviews for THE KILLING GAME
"Bush interweaves former characters with new ones expertly and seamlessly, giving depth and dimension to a strong and intricately layered plot. Luke and Andi's connection will draw readers into the story. Action, intrigue, high-stakes tension and a vivid, distinctive villain make this story a page-turner.
A note left on her bed and a personal threat have Andi Wren going to see private investigator Luke Denton for help in taking down the Carrera brothers, ruthless business rivals who she believes are responsible. Luke has a personal stake in Andi's request, which involves his ex-partner from the Portland Police Department and the Carrera brothers, so he takes her case. Soon, the Laurelton PD is involved, and along with them, Luke and Andi get closer to discovering a dark and dangerous truth."
(ZEBRA, Jul., 384 pp., $7.99)
See more at: http://rtbookreviews.com/book-review/killing-game-0#sthash.cK6xUbu8.dpuf
YOU DON'T KNOW ME
Dear Reader,

You Don't Know me was the first romantic suspense novel I ever wrote. It was originally published as Tangled in the early 90s under the pseudonym Nancy Kelly. I'm delighted that it's finally available again in this repackaged edition.

Everyone in Wagon Wheel, Oregon, knew that Thomas Daniels was a mean, violent man, twisted by liquor and hate. His stepdaughters, Dinah, Denise, and Hayley, knew it better than anyone. And then, with one desperate act, their lives changed forever.

Now, years after he disappeared, Thomas Daniels's remains have been found and a murder investigation is underway. All three sisters--Dinah, a respected journalist, acclaimed actress Denise, and Hayley, hungry for her own chance at stardom--find their lives intersecting and unraveling again. And piece by piece, they'll confront the truth about that deadly night--and the dark secrets that could turn one of them into a killer. . .

With its new title and new cover, You Don't Know Me feels like a whole new book to me--one I hope you will enjoy as much as I do!

Nancy Bush
YOU CAN'T ESCAPE
Book 4 in the Nowhere Series
The Biggest Mistake
The branding iron glows in the moonlight as he presses the searing metal into his victim's flesh. She must wear the devil's sign, just like the others. He knows the curse that afflicts them—and he'll make sure they carry it to their graves…
Is Believing
When investigative reporter Jay "Dance" Danziger is nearly killed in a bomb blast, journalist Jordanna Winters senses a career-making story. Together they can find out who's responsible. But as their investigation uncovers a string of unsolved murders, each body branded in the same way, Jordanna realizes that Dance isn't the only one in danger.
You Could Ever Get Away…
Small towns can hold big, dark secrets. Deep in Jordanna's troubled past is the key to a killer's terrifying mission—to purge the guilty one by one, burning their flesh to free their souls. And her turn is coming, as he prepares to make his mark once more…
Reviews:
In her latest, Bush brings us mystery and suspense, seamlessly interweaving various storylines. Jordanna and Dance are complex, sympathetic characters. The incorporation of existing characters from her past novels gives a natural authenticity to her story. Add a terrifying villain with a passionate cause, and this story is one thrilling read.
Investigative reporter Jay "Dance" Danziger lies in a hospital bed, injured in a bombing. Journalist Jordanna Winters helps him escape from the hospital, because she thinks he is in danger, and takes him to her family home outside of Rock Springs, Ore., to hide out. Once there, Jordanna and Dance try to determine who is behind the bombing. Their investigation unexpectedly leads to the discovery of murder victims — each one branded by a killer who has ties to Jordanna's past. Now it is crucial that they find the killer. (Zebra, Jul., 384 pp., $7.99)
Reviewed by:
Melanie Bates, Romantic Times
I'LL FIND YOU
Only Killing Stops The Pain. . .
Callie Cantrell has only fragmented memories of the car accident that killed her husband and son. One year later, she's still trying to start over, yet she can't shake her unease. Especially when former LA cop West Laughlin barges into her life, searching for his young nephew. At first he thinks Callie's lying about who she is and what she knows. But soon it's clear that Callie and West are linked by a killer who has bent others to his twisted will. The worst night of Callie's life was just the beginning of his vengeance. And when her turn comes again there will be no escape. . .
SINISTER
(Series: Wyoming #1)
New York Times bestselling authors Lisa Jackson, Nancy Bush, and Rosalind Noonan unite their talents in this riveting novel of family secrets, obsession, and murder...

A Killer's Patience

Twenty years ago, a fire ravaged the Dillinger family's old homestead, killing Judd Dillinger and crippling his girlfriend. Most people blamed a serial arsonist who'd been seen around town. But strange things are happening in Prairie Creek, Wyoming, again.

Will Be Rewarded

Ira Dillinger, the family's wealthy patriarch, has summoned his children home for his upcoming wedding. Eldest son, Colton, and his siblings don't approve of their father's gold-digging bride-to-be. But someone is making his displeasure felt in terrifying ways, setting fires just like in the past. Only this time, there will be no survivors.

In Blood

As fear and distrust spread through Prairie Creek, soon all the Dillingers, and those closest to them, are targets--and suspects. A killer has been honing his skill, feeding his fury, and waiting for the moment when the Dillingers come home--to die. .
NOWHERE SAFE
Book 3 in the Nowhere Series
THE GUILTY
She senses their twisted desires before she meets them. It's as if fate is helping her stop these monsters from preying on others the way she was preyed upon. And after she has delivered brutal justice, she'll let the whole world see their guilt.
WILL ATONE
"I must pay for what I've done." The first victim—naked, bound, frozen to death—wore the note strung around his neck. Now there's another note—this one attached to Detective September Rafferty's own stepbrother. Stefan survives, but September is sure he knows more than he's saying. Someone is eliminating suspected sexual predators. And the only thing more dangerous than a madman is a killer who's ruthlessly sane.
IN BLOOD
Racing to predict the next target, September finds herself drawn into a harrowing and deeply personal case. For this time, there are no innocents—only the one who kills, and those condemned to die. . . .
★ ★ ★ ★ - RT Book Reviews for NOWHERE SAFE
The familiar characters of the Laurelton Police Department, most prominently detective September Rafferty, are back in Bush's latest novel. A master at the craft of suspense, Bush doesn't disappoint with an intricate plot and a diabolical villain at its center. Add to that steady pacing, expert storytelling and a strong heroine, and what you get is an irresistible thrill ride that only Bush can create.
Detective September "Nine" Rafferty is back at work after an injury to her shoulder when a case she is working on yields another victim. Suspected sexual predators are being targeted and murdered in brutal ways, and her stepbrother Stefan Harmak is that latest victim. Now Nine trails a killer who is as calculating and cold as they come. As she tries to predict who the next victim will be, the case becomes even more personal, raising the stakes. (ZEBRA, Sep., 384 pp., $7.99)
NOWHERE TO HIDE
Book 2 in the Nowhere Series
THERE ARE SINS
"Do unto others…" Carefully, he carves the words into their flesh. The victims are all young, brunette, pretty. But she's the one he really wants. The others are just a way to ease the rage that has festered for years, until the only thing that calms him is his knife slicing through skin…
YOU NEVER LIVE
Detective September Rafferty—Nine to her friends—recognizes the artwork that arrives in the mail. She created it back in second grade. Now a killer's words are slashed across it in what looks like blood. He knows her. September's investigation leads to her old classmate, Jake Westerly. She wants to believe Jake is innocent. But trusting anyone could be her last mistake…
TO REGRET
Every slight, every slur, he remembers them all. They turned him into a monster, and now they will suffer for it. Starting with September, he'll show them that the past can never stay hidden, and the time of vengeance is at hand…
Read reviews for NOWHERE TO HIDE
4 stars!
"In her latest novel, Bush brings back Nine Rafferty, the newbie detective who is now following the path of a sadistic serial killer. Edge-of-your-seat suspense, complete with several plot twists and a dose of romance, keeps the pages turning. This is one definite thrill ride." ~RT Book Reviews
NOWHERE TO RUN
Book 1 in the Nowhere Series
SOME SECRETS
When Liv Dugan ducks out of work for lunch, it's just an ordinary day. When she returns, she stumbles onto a massacre. All her colleagues at Zuma Software have been shot. Only luck has left Liv unscathed, and that might be running out…
WILL FOLLOW YOU
Liv suspects the shootings are tied to her past—and to the package she recently received from her long-dead adoptive mother. Sensing she's being followed, Liv jumps into a stranger's car and orders him to drive. Her "hostage" complies, listening carefully as her story unwinds. Skeptical at first, he ultimately begins to believe all Liv's fears are justified…
TO YOUR GRAVE
Together, Liv and her unlikely confidant try to uncover the truth about her adoptive family, her birth parents, and her troubled childhood. Because somewhere in Liv's past is a secret worth killing for, and a nightmare she can never outrun…
Reviews
"Bush's latest takes readers for a thrilling ride, chock full of suspense and with tension jumping off the pages. Add to that good pacing, a complex mystery, a genuine romance, and well-defined characters, and the end result is one story that will keep you not only captivated, but also on the edge of your seat." ~Romantic Times
BLIND SPOT
WHAT YOU DON'T SEE. . .
The crime scene at an Oregon rest stop is brutal beyond belief--a young man's lifeless body cut to ribbons, and his pregnant girlfriend left alive but comatose...
WHAT YOU DON'T KNOW. . .
Psychologist Claire Norris is assigned to treat the survivor at a private mental hospital. But there are no clues to the identity of the catatonic "Jane Doe." A difficult job only becomes more complicated with the arrival of ex-homicide detective Langdon Stone, who questions Claire's every move.
CAN KILL YOU
Reluctantly working together, Claire and Lang begin to unravel the chilling truth about a twisted case--one with ties to a killer who is right in their midst, eager to see a mission of evil through to its terrifying end. . .
UNSEEN
She Woke Up With No Memories. . .
She wakes up in a hospital room...bruised. . .bloody...confused. She knows her name is Gemma La Porte—but that's all. She doesn't remember smashing her car. She doesn't remember anything from the last three days. But a policeman, Deputy Will Tanninger, is waiting for answers and wants to know if she's responsible for a fatal hit-and-run. . .
But Remembering Her Past Could Kill Her. . .
Hoping to restore her shattered memory, Gemma has no choice but to put her trust in Will. But if it turns out she's guilty of murder, he has no choice but to arrest her. Torn by her growing feelings for Will, and haunted by her shadowy past, Gemma is determined to learn the truth. But, in this case, the darkest truths are unknowable—and the deadliest enemies are unseen. . .
HUSH
In the summer before their senior year, Coby Rendell and her friends take a beach trip together. Around a campfire on a foggy June night, Coby, Rhiannon, Yvette and the others share their darkest secrets, before a tragic accident shatters the bond between them...Twelve years later Coby attends a birthday party reunion that ends in horror when Yvette's sister's lifeless body is discovered in a hot tub. Soon others in the original group of tale-tellers begin meeting similar fates-unfortunate 'accidents' shrinking their numbers one by one...Conflicted by her growing feelings for Danner Lockwood, the investigating detective, Coby races to unravel a mystery buried in the past. But someone is watching her every move - someone prepared to kill again and again to protect a shocking truth...